Every summer, I try to set a goal for myself. One year it was to catch up with as many old friends and classmates as possible. Another year it was to start exploring the surprisingly vast number of cultural/artistic events my growing city had to offer. Just this past summer, in addition to continuing my artistic escapades, I had another goal of learning more about fashion through mediums besides my usual magazines and online websites. As a result, I found myself borrowing a good number of fashion books and documentaries over the course of four months. Now I'm here to talk about each of them, and hopefully inspire you to pick up a copy one day and begin your own journey.
Books
The Sartorialist: Closer.
I absolutely loved the first
The Sartorialist
, and so I was very excited to finally have my hands on the second one. In the first book, what stood out to me was photographer Scott Schuman's commentary. In
The Sartorialist: Closer
, I was struck by the way Schuman put his photographs together. Photos were placed beside each other such that the spine acted as both a way to bring people together, and to divide their personalities. On one page was a woman in an all-white dress, and right beside her was a woman in an all-black dress. They were polar opposites, yet somehow they were complementary. And as the book went on, more and more of these fascinating pairings were made.
Advanced Style.
I've always struggled with how I would dress in my most advanced years. Fashion tends to avoid that question;
Vogue
has its annual age issue, but in reality, their idea of old age is 60-years-old. It's like any woman older than 60 doesn't have much hope left in terms of fashion. I want someone to tell me I can live to a ripe old age and still have fun with fashion. Thankfully, Ari Seth Cohen does just that. He celebrates aging and shows that it doesn't have to filled with baggy t-shirts, khakis and sneakers.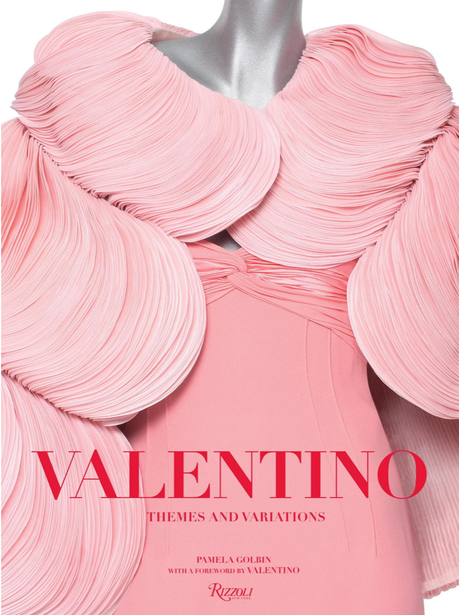 Valentino: Themes and Variations. I love Valentino, but because he retired right when I started getting into fashion, I sadly never really had the chance to witness his prolific career. This coffee table book is my attempt at grasping as much Valentino history as I can. Flipping through the pages, I realized that although the modern Valentino brand borrows wonderfully from its past, it still misses the mark in terms of capturing Valentino's magical touch. But perhaps that's exactly how things are meant to be - it's a testament to the designer's inimitable hand and unrivaled talent.
The Asylum.
This is a riot of a book. Simon Doonan has a wicked sense of humour, and gives a hilarious look at the mad, mad world of fashion. But burrowed among the sly remarks and quick-tongued writing are gems of wisdom. Doonan really gets at how fashion people think and gives honest criticisms on the industry. Yet as broken, superficial, and crazy as the fashion industry can be, we still look at it with tender love. I guess that makes us just a little insane?
Why We Buy: The Science of Shopping.
Two words: read it. You don't even have to be a fashion fanatic in order to read this. This book is a gold mine for both consumers and retailers. Paco Underhill makes a living off watching people shop, and has a wealth of information on the science behind shopping. From looking at the ideal layout of retail stores, to how human physiology impacts the way we shop,
Why We Buy
lets you peek inside the secrets of retail.
Buy-ology: Truth and Lies About Why We Buy.
I picked up this book thinking it would be similar to
Why We Buy,
but I finished the book fairly underwhelmed. Martin Lindstrom studies marketing through the lens of neuroscience, which in essence, is quite interesting. But the book didn't manage to distill the science into a format the average reader would find approachable, and therefore I found myself skimming several parts. And ultimately, the results Lindstrom gathers are not entirely noteworthy. Lindstrom appears to take already commonly accepted ideas, and simply further supports them through science. Nothing groundbreaking coming from this book.
The Worn Archive. The WORN Fashion Journal, a Canadian fashion magazine that aims to be, well, unlike your typical fashion magazine, has put together a book that wonderfully captures what the magazine is all about. Typical glossy fashion magazines put forth an idealized lifestyle, but The WORN Archive approaches fashion from a raw and real perspective. Fashion issues, ideas and histories are explored in ways the average fashion lover can relate to, and photoshoots feature models that look just like you and me. In some ways, this book is for true connoisseurs who aren't attracted to fashion simply because it looks nice. I'm not saying this book is better than the glossy mags I also adore, but that it acts as the perfect counterpart for those looking to get the full picture.
Humans of New York.
Now, this isn't necessarily a fashion book, but when you aim to photograph humans in all their unique glory, you inadvertently (or perhaps deliberately) end up photographing fashion. Brandon Stanton, like Scott Schuman, does a fantastic job of creating themes around the photos he places together. One page might have me smiling like a goof; the next, tearing up in sadness; and the last, intrigued at all the zany, adorable, admirable characters that make up what we know as New York.
Documentaries
Valentino: The Last Emperor.
Finally,
finally
I had this documentary in my hands. It was fascinating to witness Valentino's brilliant mind (and at times, his quick retorts) at work, and it was humbling to learn that behind every lauded designer is an extremely hardworking and supportive group of seamstresses and loved ones. Between scenes of the jaw-droppingly opulent life Valentino lived, there are precious, tender moments between the emperor and Giancarlo Giammetti, his partner in both business and life.
Lagerfeld Confidential. I went into this documentary giddy with excitement at being able to tap into the mind of one of fashion's greatest characters: Karl Lagerfeld. I'm intrigued by how Lagerfeld is such a prolific man, yet strangely, still remains such an enigma to so many of us. But around half an hour in, I realized this documentary would not satisfy my intrigue. Instead of taking a meaningful look at what makes this man tick, director Rudolphe Marconi seemed more interested in giggling like a pubescent boy as he urged Lagerfeld to divulge in his sex life. Although Lagerfeld's mystique has been shattered a little by this documentary (never meet your idols, as they say), Lagerfeld's good-hearted jabs at Marconi prove he's well above the petty school-boy humour of this film.
Scatter my Ashes at Bergdorf's. The trailer of this documentary had given me shivers, so I knew I was in for a visual delight with Scatter my Ashes at Bergdorf's. I was riveted by the stories this historic department store held within its lush interiors, and was - at least for the duration of the film - invited to roam the realm of the elite. Although word of warning: my parents practically fell asleep watching this, so proceed only if you're a diehard fashion lover.