On October 5, American Apparel filed for bankruptcy. From a customer perspective, I can't say I was all that surprised. Recently, I researched deeper into the company's reputation for a report (which I ended up doing well on...writing about fashion for school is always a good idea), and after learning more about the situation leading up to the bankruptcy, the future does not look bright for American Apparel.
Naturally, the first thing I want to look at is design. American Apparel used to be quite popular among university students a few years back, although I personally never understood why. I reckon the label's skin-tight bodywear catered nicely to club-hopping females, but besides that, the store had nothing exciting to offer. The designs not only varied minimally from season to season, they themselves were fairly basic. For the money American Apparel asked for its products, I didn't find the design pulled through.
However, with more research, I can appreciate that higher prices were justified based on the fact its manufacturing is vertically integrated in California. The company also has a commitment to fair treatment of its workers through higher than average wage.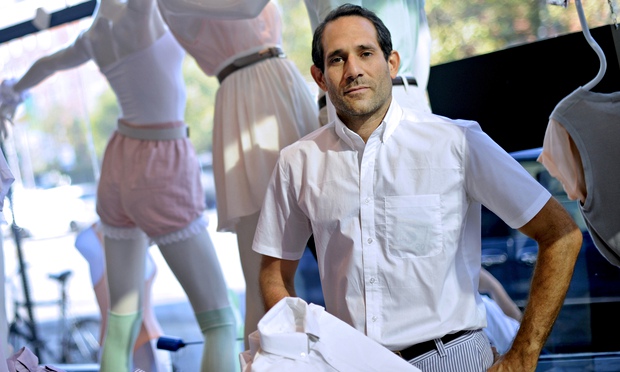 But of course, design is not the real reason American Apparel floundered - founder and former CEO Dov Charney is. Throughout the 2000s, Charney faced multiple lawsuits from former American Apparel employees for sexual harassment. Coupled with the company's infamous sexually-charged advertising, American Apparel's reputation took a hit (and surely, the legal fees didn't help its bottom line either). The company's share price peaked in 2008 at $15, but over the next six years, began steadily declining to just over $1.
Interestingly enough, I came across an article that suggested the toning down of risqué American Apparel advertising will only hurt the company further - that in some ways, offending people was exactly what gave the company sales. There may actually be value in this argument. American Apparel advertising had always been provocative, and even by 2008, the company had still been named "Marketer of the Year" by LA Fashion Awards, "Label of the Year" by The Guardian, and "Retailer of the Year" at the 15th Annual Michael Awards for the Fashion Industry. Therefore, the downfall of the retailer can be attributed more to Charney than its salacious advertising. However, at the same time, that does not mean continuing with business as usual is going to serve the company well. In light of Charney's scandals, American Apparel's advertising will have to change. It will have to be provocative, but in a different way. I recommend focusing more on its existing campaign of using regular, unphotoshopped women on the streets as models, provoking through constructive social discourse, and using LGBT models/brand ambassadors.
Nonetheless, bankruptcy cannot be solved through mere adjustment of reputation. American Apparel will have to reorganize its finances. I have read many who think the company's commitment to local production is a hindrance to profits. It is expensive to manufacture in Los Angeles, but I do not think that is an area American Apparel should consider compromising. Its reputation is already tarnished; the last thing it needs is to throw away one of its big bragging points.
At the time of writing this post, news was released that American Apparel will be closing its original store location in Echo Park, and has received an extension to its period for filing a reorganization plan. Looks like there is a long road ahead for the once highly-regarded company.
Image Source: JPDA,The Gaurdian,PurrinCup