Looking back at my old Boxing Day posts, I become quite grateful for the records I've kept of my shopping adventures. It's amusing to see all the items I've tried on, and my no holds barred commentary on each of them.
Three years ago
, I tried on a bunch of things - and bought nothing.
Last year
, I managed to purchase one item.
This year, Boxing Day was a little different. I went in with a mission: buy jeans. I've been living off the same 2 pairs of H&M jeans for the past couple of years, and although they have served me well, they have lost the rosy colour of their youth and are fading into a lackluster shade. As well, now that I'm older, my tastes have evolved to prefer black or dark wash jeans. Darker bottoms are an easy way to add instant class to an outfit, and pair well with pretty much anything up top. So, it was time to see whether I could snag some good deals on denim.
I ventured out first to H&M and Topshop...and was hugely disappointed. H&M jeans have always been made of thin material, but now they appear to be getting rid of all the front and back pockets. I never realized how much I actually appreciate the extra bulk of seaming and pockets until I saw how cheap pants can look without them. At this rate, I might as well just buy a roll of fabric from Fabricland and wrap it around my legs. Topshop, on the other hand, had meager discounts, leaving me immediately disheartened.
Luckily, my parents urged me on to The Gap. I don't usually shop at The Gap, mainly because the styles don't interest me and the sizes are usually too big. But earlier in the month, my parents did manage to buy a pair of pants from The Gap in a size that fit me really well, so I thought I would give the store a try. After all, denim should be one of the brand's specialties.
And
ta-da!
I found what I was looking for. My mom and I were just about to leave the store, when both our eyes caught sight of these Stretch 1969 Studded Front True Skinny Jeans: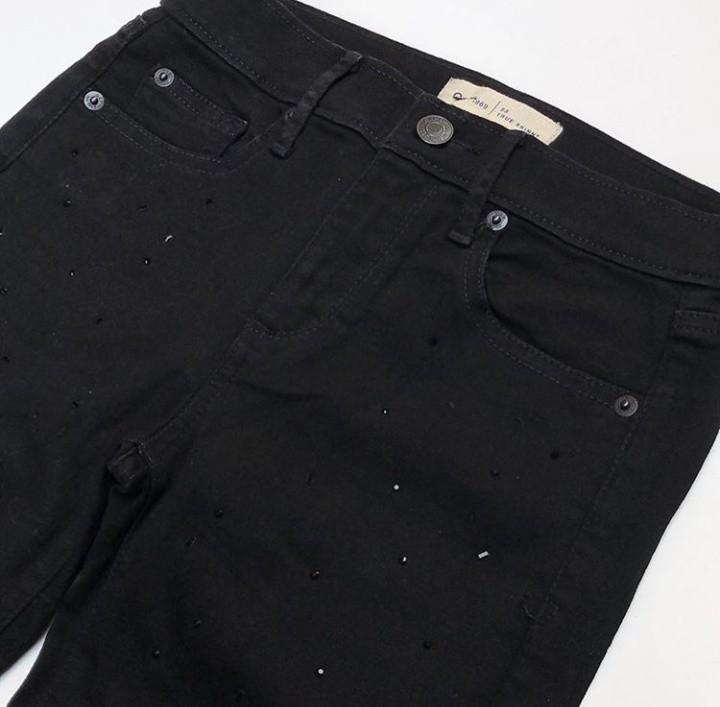 Discounted from $98 to $25, I had to try these on. A Size 24 was all that was left, and though they were quite tight (jeans stretch, so I would actually advise buying jeans that feel a bit tighter in the changing room), the shape they gave to my legs was exactly what I was looking for. They have black beading down the front of both legs, which give off subtle sparkle with every move, much like stars in the night sky. For the price, this was a no-brainer purchase. However, I am worried about the beads falling off in the wash. Would I be crazy enough to commit to hand-washing these jeans? I might...
Remember those pants I mentioned my parents had bought for me earlier in the month? Well, we had already gotten them for cheap at $40 after a 50% off discount. On Boxing Day, however, these pants were discounted even further to $18. So, I saved a pretty penny after getting a price difference.
I couldn't find a photo of the exact pair I have, but they are black Bi-Stretch Skinny Ankle Pants with a gold diamond pattern, similar to the polka-dotted pair below:
Last but not least, H&M redeemed itself. I went to an H&M in a different mall, and managed to uncover gold - literally. A couple months ago, I had bought a pair of black Superstretch Trousers with shiny gold hardware on sale for $25. These trousers fit snug and are made of a thick, stretchy fabric. The gold buttons and zippers have a smooth sheen which outshine all the other dull finishes I've seen on H&M denim. These pants are truly a diamond among stones. I've worn these pants so often and love them so much I have been searching ever since for another pair. It was a roller-coaster of emotions to see these pants go in and out of stock at various H&Ms around the city...but never once in my size.
Until Boxing Day. My mom flagged me over from across the store with a look of urgency - she had found one in Size 2! They weren't on sale this time around, but the extra dollars were worth it. I now have two pairs of these incredible trousers. I don't have identical sets of anything else in my wardrobe...so you know I'm serious about these pants.
Buying pants has always been a struggle for me. My legs are short and slim, which means jeans are usually always too long or too baggy. However, I've come to realize that if a pair of pants does not fit perfectly, I probably won't end up wearing it that often. I could buy a pair for a fantastic price of $10 and choose to overlook slight bagginess while in the changing room, but if I don't end up wearing it, it's $10 wasted. So, I'm particularly picky about how pants fit now (ok, I'm picky about every item of clothing I buy, but just humour me here). I'm happy I've managed to find my groove with The Gap and occasionally H&M, resulting in this year's Boxing Day reading as more a success story than a mere window shopping recap.
PS: I know I've been MIA on this blog lately. I've been busy with some free online courses I've taken up out of pure interest, as well as an exciting new project coming up (and yes, it has to do with fashion!). So please excuse the absence. I hope you'll stick around as I check in every once in a while. :)
Image Source: The Gap, Brittany Maddux, H&M