Let's talk about shoes.
ALDO Zusien
Remember when I fell for
ALDO's Digosien boots
? I still Google them every once in a while hoping ALDO will bring them back in stock. Yeah, that's how sad I am. However, that's besides the point. I didn't think ALDO would impress me with another pair of shoes so soon after Digosien, but they did. Introducing, Zusien. I first discovered the appeal of strappy, pointed toe, low block heels from
Marzia Bisognin
, one of my style icons. I waffled for days over whether I wanted to try these shoes on (and potentially fall down the rabbit hole of lust), but finally, I went into an ALDO store and took them off the shelf.
Oh dear, did I fall down that rabbit hole. I squealed in excitement as my boyfriend looked on with a confused, yet slightly amused, smile on his face. I think even the salesperson took a hesitant step back. These shoes were so classy. The black is sharp against the foot, emphasizing the d'orsay sides. The toe is perfectly pointed, and the block heel is cute and stout. My mind flashed through so many outfits I could wear with these shoes. Alas, at $60, they were too expensive. I didn't want to spend that much money on a pair of suede shoes that I didn't necessarily need.
Shortly after, these shoes went out of stock. I stalked around ASOS for fun, and saw they had a similar pair, but the toe box and heel just weren't shaped as nicely, making the shoes off-kilter in comparison. In an unexpected turn of events though, I checked ALDO again last week, and it looks like Zusien has been revived for another season with more materials and colours. I hope these shoes aren't here to tempt me again, but frankly, I would trade these in to have Digosien brought back from the dead.
Tod's Chukka Boots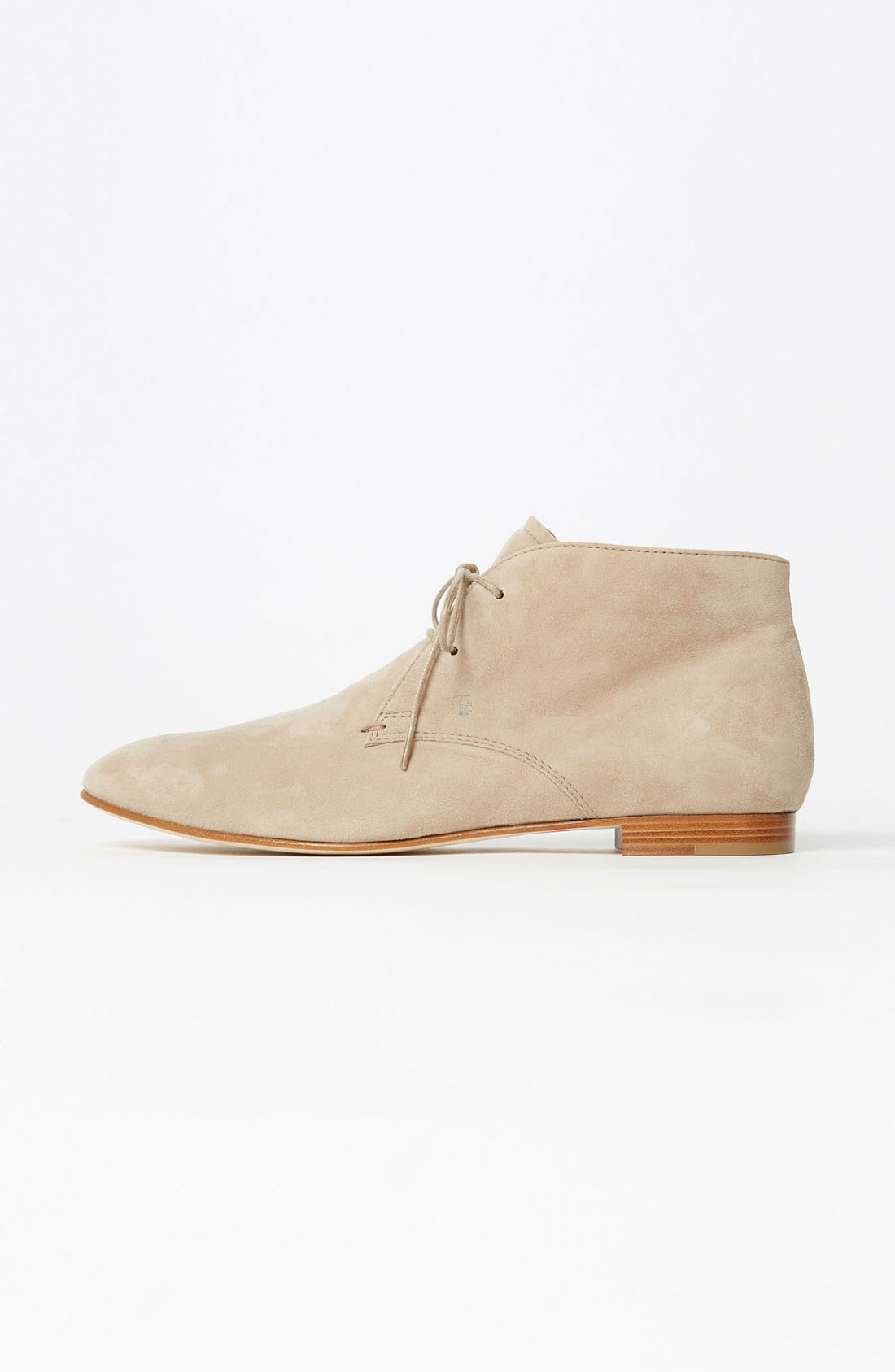 A while ago, I was given a pair of brand new soft blue (different colour than above) Tod's chukka boots as a hand-me-down (they were never worn by my predecessor, hence why they are still in brand new condition). Over the years, my wardrobe has acquired some designer shoes thanks to the generosity of my friend, but no matter how big the brand name, I have never been as impressed by a pair of shoes as I was with these Tod's. These boots are of
absolute incredible
quality. The craftsmanship blew me away.
First of all, the suede. The suede is of the softest, most buttery kind. My fingers slid smoothly over the completely blemish-free upper. Shoelaces were the next thing I noticed. The are made of a thicker, stiffer rope, resulting in a satisfyingly secure tie. Overall, the shoe is a feminine and sleek take on the traditional chukka boot. The elongated toe box narrows into a beautifully gentle curve, and the leather sole is done in a clean birch colour - my favourite shade for shoes like these. While short and demure, the heel is still noticeable, adding just enough negative space underneath the arch to lend the boots a sophisticated polish.
I've always known Tod's to have well-made driving shoes, but I am utterly astounded by this particular pair of chukka boots. When my dad saw them, he told me he too was once floored by the beauty of Tod's, yet could not bring himself to pay the price for a pair. I agree with him when he says these are the type of shoes you don't even want to walk out of the house in due to fear you will ruin them. I love how these shoes help my style venture into more masculine territory, so one day, I shall have to muster up the courage to wear these out. In the meantime though, just let me admire them while they're still in pristine condition.
UGG Janney Boots
UGG, really? Yes, really. I've
given UGGs a hard time
on my blog, though to be fair I'm only opposed to those loaves of bread they call boots. This winter, we were hit with bone-chilling cold weather. In the five minutes it took for me to walk from the train station to work, my toes practically froze over. I knew it was time I took action and wore some better boots. Luckily, I ended up finding some insulated, albeit hideous, winter boots in my closet. Although I cared about warmth, not style, at that point, I've still been low-key on the lookout for stylish winter boots (is there such a thing?).
Today, browsing though Nordstrom's sale rack, I came across these UGG boots. I picked them up immediately to try on. I don't normally go for wedges, but I'm fine with them if they are sleek enough. What appealed to me about these boots were the military-style lace-up and buckle (which reminded me of Burberry Fall/Winter 2010/2011 RTW - a great collection), and the smooth waterproof leather. The boots were nice and lean compared to my chunky winter boots, and I liked how they were slightly bad ass, but in an elegant way. I would have bought them if it weren't for the $160 price tag. I'm not sure whether these boots are practical enough for our cold, messy and slippery Canadian winters, so I need to ponder some more before I lay my money down.
Image Source: Aldo, Lyst, Zappos