In Canada, December 26 is Boxing Day, a day of year-end sales and buying frenzy. Realistically through, nowadays Boxing Day is more like Boxing Week and the sales are quite meager. With the weak economy and rise of online shopping, the malls are hardly as packed as they once were. Nonetheless, going out on Boxing Day is almost a family ritual for me even though we often leave empty-handed. For our shopping trip this year, I tried on a number of dresses, but found nothing I wholeheartedly wanted. Along the way, I came across a couple of pieces I found interesting - some of which I tried on (and bought!), some of which I simply admired.
Self-Portrait High-Neck Column Dress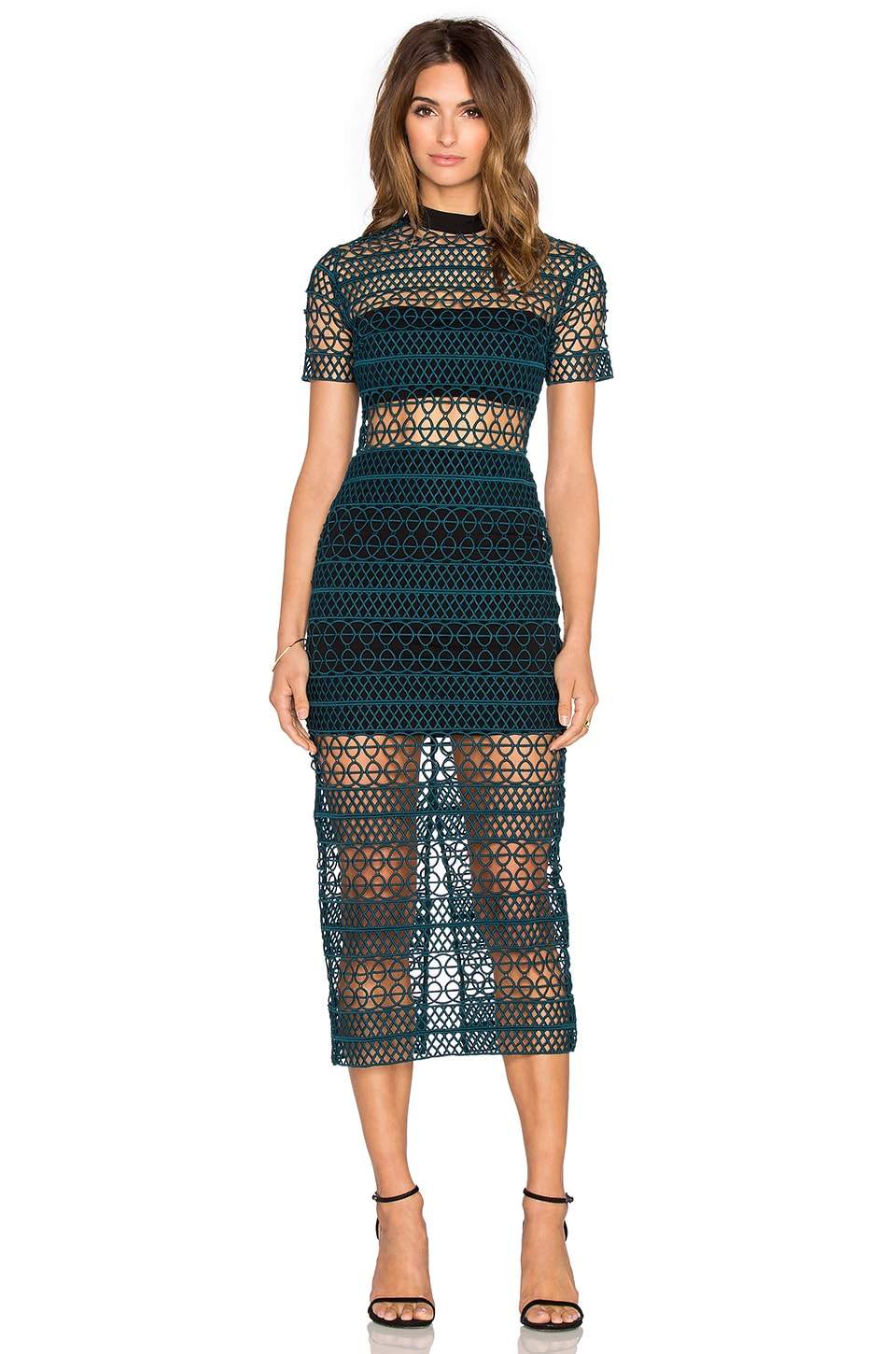 Let's start off with something bold! I saw this Self-Portrait dress in Holt Renfrew, and was impressed by the quality of the thick teal lace overlay. At first I thought it was entirely see-through and meant to be used as a layering piece, but then noticed the bandeau and skirt inner. This is clearly a daring dress, but I like the plentiful display of skin juxtaposed against the midi-length and high-neck silhouette.
French Connection Slick Chain Mini Dress
Hudson's Bay was one of the stores this year that had fairly good sales. My mom found this French Connection chain dress discounted to around $40. What I found really unique about this dress was the string of chains across the chest and along the hem. The dress fit me perfectly, but as usual, I felt uncomfortable with the way the arm holes cut in. Shame!
Banana Republic Chiffon-Fringe Blazer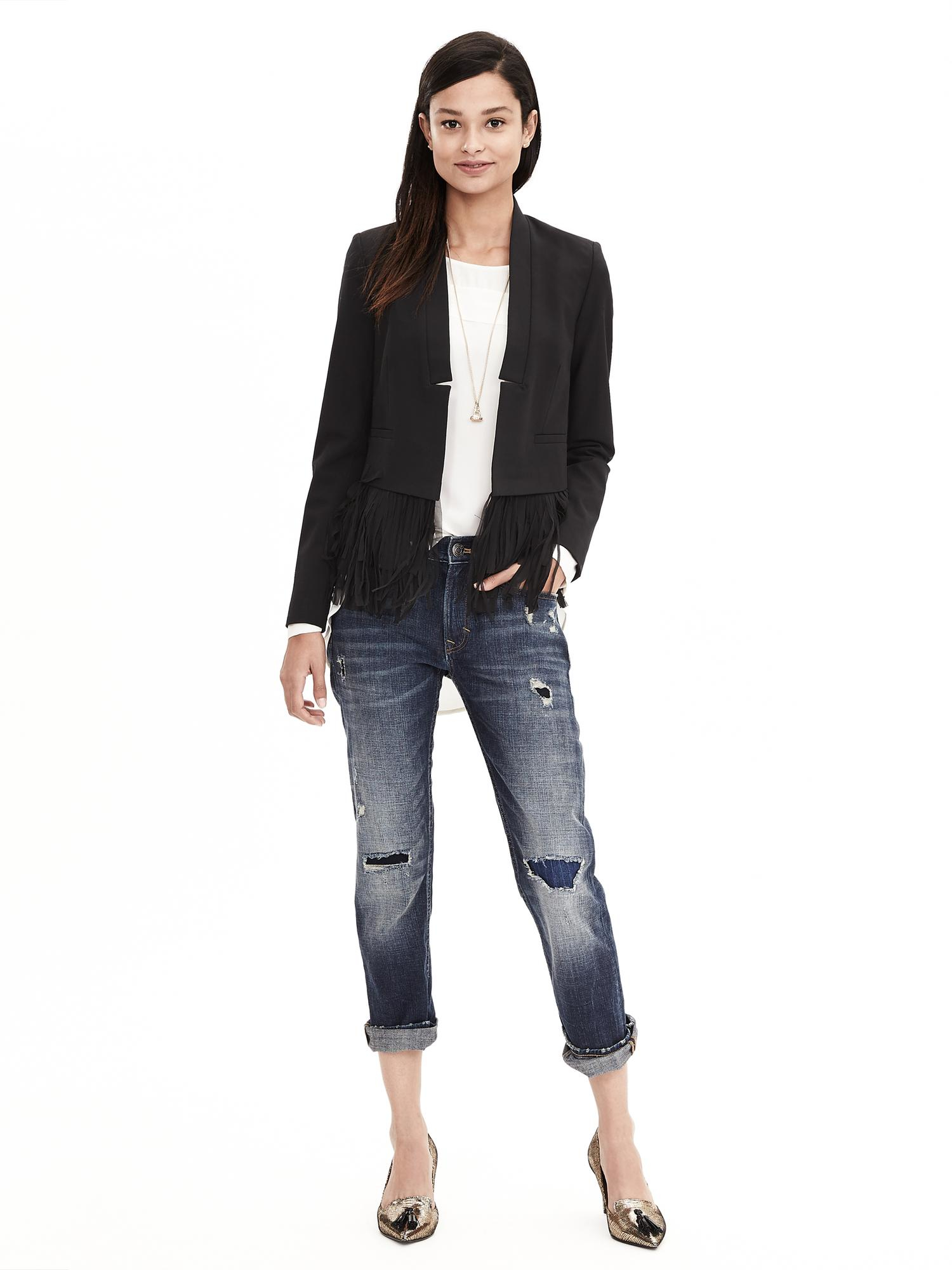 I saw this chiffon-fringe blazer hung up on display and thought it was a great update to a wardrobe basic. I would style the blazer differently than shown here to make it classier and draw focus onto the fringe, but I would have to try it on to really determine if it's as good as it looks on the rack. I did notice the fringe tended to stick to whatever is underneath, so it could be a nightmare trying to keep the strips nice and aligned.
Burberry Kensington Trenchcoat
At long last, I have tried on a Burberry trenchcoat! My mom picked up one of Burberry's classic Kensington trenchcoats in my size, and I was surprised by how well it fit. I always thought I was too short to pull off a trench, but the impeccable tailoring of the world's most famous trenchcoat maker balanced out the length perfectly. One day, if I ever buy a trenchcoat, I know there's only one place I'll get it from.
Banana Republic Red Full Skirt
At last! The only thing I bought during my trip. I have always wanted a full skirt because I think it is a staple for the sophisticated woman. I tried on this Banana Republic skirt I found on sale for around $20 (and in size 00P!). Not only did the skirt fit well, I liked the sturdiness of the thicker fabric and the standout shade. I practically made a split-second decision to buy it (I am rarely such an impulse buyer), and only realized once I got home that the skirt comes with the added bonus of pockets!
Banana Republic Shirred Drop-Waist Skirt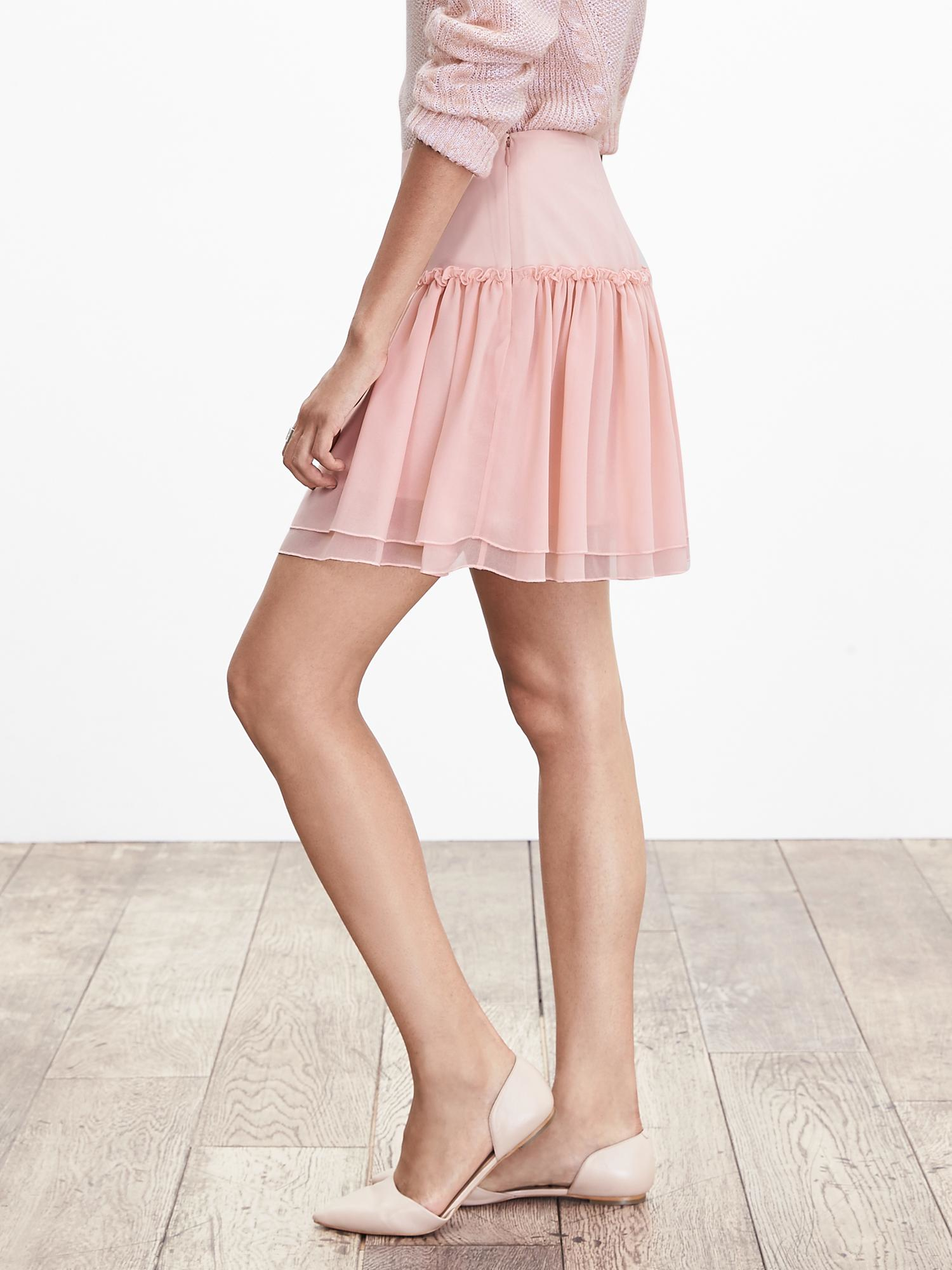 This is another skirt from Banana Republic I would have bought if it came in my size. I generally don't think I look that good in looser, shorter skirts, but the fitted waistband above the ruffled drop-waist helped create a more flattering shape on my frame. The skirt was short, but not too short for my comfort zone. I absolutely adored the soft pink colour and lightweight fabric - it made the skirt pretty and feminine, but also flirty.
H&M Glittery Skirt
I've always wanted a sequin skirt because it can add such great texture to an outfit, but it's difficult finding a unique design in both good quality and price. I found this sequin skirt from H&M in a cool iridescent shade on sale for only $10, so I thought I'd give it a try. While it fit pretty well, the quality was too obviously lacking. As you can see in the photo, the inner lining is actually shorter than the skirt, leaving a portion of the hem a little sheer. Even though I like the concept, the execution does not pull through on a skirt of such cheap quality. The sheer edge emphasized the thin material and the hem easily puckered into a wave in the back. An example of why I always shop with a discerning eye in fast fashion stores - sometimes quality can be cheated, sometimes it's just too obvious.
Gucci Fur-Lined Slingback Pump
We started with something bold, now let's end with something bold. These Gucci fur-lined slingbacks are absolutely crazy! These are shoes that keep on giving - first the red leather, then the kangaroo fur, then the gold heel, then the two large crystals behind the heel. It's sensory overload, and although I initially thought it was a bit much, I've seen some brave ladies sporting these in street style pictures, and they look like the ultimate fashionistas.
Image Source:
ASOS
,
Revolve Clothing
,
Drez
,
WhoWhatWear
, Lyst, H&M,
Gucci